Cooking with pumpkin is something I've started doing just recently. I don't think I've eaten that many types of foods with pumpkin in it. Having said that, I must profess that I absolutely, absolutely love pumpkin cheesecake. I can't remember where exactly did I eat that awesomely delicious cheesecake, but I do know that my love for pumpkin was discovered at that time few years back. The first time I actually used pumpkin in my cooking was
here (click to see).
I've even tried growing pumpkin last year. I was brimming with joy when the 2 seeds I sowed sprouted. I successfully transplanted them to the ground and the result after 2 months or so was I had two vigorous plants with many male flowers. When the female flowers finally decided to make their diva appearance, all the male ones got tired of waiting and had wilted off . Thus, disappointingly I did not get any pumpkin at all. I would love to try growing pumpkin again, but my messy, weed-infested backyard is putting me off that idea. Anyway, for now, I'll just run to the supermarket when I feel like cooking it.
Here's a simple, easy-breezy pumpkin rice recipe cooked in an automatic rice cooker. It's another one of my quick meals and I like eating this with acar (pickles). Just for the record, I have 3 types of acar in my kitchen now - a bottle of Nyonya cucumber, carrot & green chilli acar (my dad bought), salted fish acar (my sister made) and Indian-style lemon acar (I bought). Oohhh la la!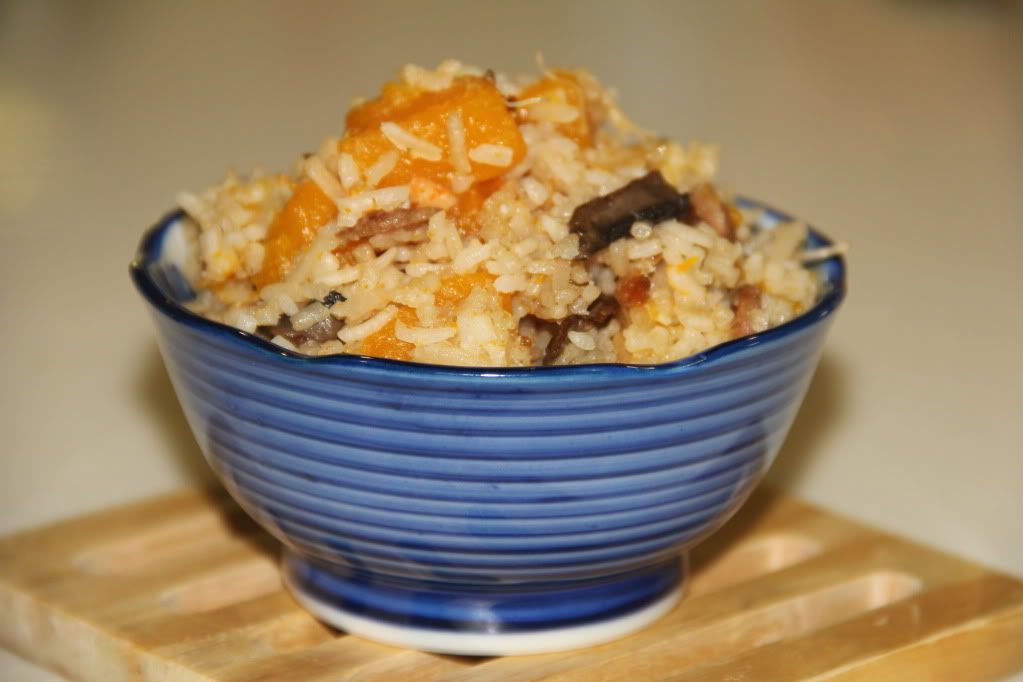 Ingredients:
1 tbsp chopped garlic
1 tbsp dried shrimps (soak in hot water for 20 mins and chopped)
5-6 dried scallops (soak in hot water for 30 mins and peel to shreds)
5-6 dried shitake mushrooms (soak in hot water for 30 mins and sliced)
1 small bowl diced chicken meat (season with dash of pepper and oyster sauce)
3/4 cup rice (wash and drained)
300g pumpkin (cubed)
Method:
1. Heat 3 tbsp cooking oil and 1 tbsp sesame seed oil in a pan and saute the garlic, dried shrimps till brown and fragrant.
2. Add in the shredded dried scallops, mushrooms and chicken cubes. Saute for 8-10 minutes (add 2 tbsp water and cover with lid for a few minutes), then add in the pumpkin. Saute for an another 5 mins. Turn off the heat.
3. Transfer everything into a rice cooker. Then add in the washed rice and the right amount of tap water as you would normally cook rice. (Rule of thumb is 1 cup water to 1 cup rice but then again it also depends on the type of rice - certain rice require just slightly lesser or more water).
4. Add in soy sauce or salt, dash of pepper and about 1 tbsp teriyaki sauce. Stir to mix.


5. Press cook and it will be done automatically when cooked in a rice cooker.
cheers,